Mothers day, 1/2 marathon, and Schools Out!
Mothers Day this year was really a great day. I decided this year to have no expectations. In years past I've always had my hopes up that Tyler would be more helpful like my dad. Every year I'd end mothers day grumpy and disappointed. This year I decided would be better. I woke up on Mothers Day and felt so thankful for every one of my kids. They each made me special little gifts. Spencer even found a rock from his collection and made it into a worry rock for me. I told Tyler what I wanted a little over a week before Mothers day and he went and bought it for me :D Other than the gifts my day was the same as ever other day. No one helped me cook or clean, now normally I'd be pretty mad, but this year I decided that it didn't really matter. I love each one of my kids so much and I consider myself blessed to have them in my life.
A week ago today I ran the Ogden 1/2 marathon with my mom, Leslie, and Christine. Ang, Bridget, and Becca came and hung out at the hotel. It was so fun to spend time with all of them. I was really kind of nervous for the race day because I hadn't trained as much as I wanted to. I woke up at 1:30 in the morning and didn't get back to sleep. We had to catch the bus at 5 so we planned to get up at 4:30. I have had terrible allergies this year and felt stressed about which medicine I should take. I finally decided on what I was going to take at the top before the race began. I wore a hoodie that I didn't like so that when I got to hot I could just throw it off. When the race started I stayed with Leslie. I really enjoyed running with her. I wished that she was my neighbor so we could run together more often. She is such a great sister and aunt. We finished the race in 1 hour and 55 minutes. I was pleased with my time. My goal was under 2 hours. I prayed that I would be able to do well but not push it too hard because I knew I'd still have to drive myself home after the race and if I pushed it too hard I'd be too tired. I felt great at the end of the race and was able to make it home and pick up the kids from all of the neighbors houses that I farmed them out to. They all had a fun time with friends and I was thankful that I have such great neighbors that I was able to leave them. Becca came to the race and took our pics.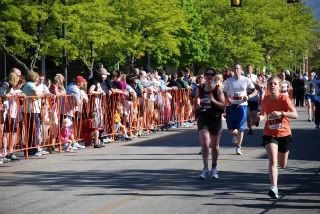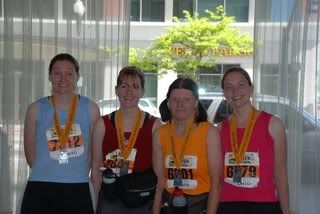 Last Friday school got out. The kids are so excited for summer. I made a list for Austin of all of the fun things we are going to do during the summer. I felt a little sad that my little Hailey is going to be gone to school all day long now. My little girl is growing up so fast. It seems like yesterday she was just a baby.