Joy Baths
Ethan is such a sweet and unique boy. He is so fun. Most of his baths are "hurry up and get clean so I can go to church baths" or "I peed my pants and I need to get clean baths." You get the idea. Well a few minutes ago he was outside and Austin splashed muddy water all over him. He came in sad. He even had mud in his ear. I filled the tub with some warm water and put him in. He looked up at me with his sweet little face and said "Is this a joy bath?" I said "yes, this can be a joy bath." He was so excited to have a joy bath.
He loves this hat that he is wearing in this picture. He wears it all of the time and thinks he is a cowboy..lol. He has such a fun personality.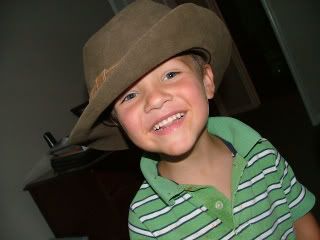 Spencer, Austin, and Hailey all have 4h projects submitted to the fair this year. I am excited for them to go and see how their things do. I took pictures of Spencer and Austin for their record books. Here they are with the pillow cases they sewed. I didn't get a picture of Hailey with her pillow case but now I'm thinking I need to.