Backbreaking Miracles
On Thursday September 30th in the afternoon Tyler went to check the water on the field. Two pivots had gotten stuck together (pivots are giant sprinklers that go in a circle around the fields they are 15-20 feet tall). Tyler climbed up on the end of one pivot and had his dad go and move the other one. He didn't realize that there was tension on the one he was on, so when his dad moved the pivot the one he was on snapped like a rubber band and flipped him off. He fell 15 feet and landed on his back. He was in a tremendous amount of pain. Tyler's dad was on the phone with Tyler when it happened. When Tyler fell he tried to call him back to see if everything was okay. When Tyler didn't answer the phone he knew something was wrong. His dad came and found him. He asked Tyler what he wanted to do and Tyler said "Help me up on my 4 wheeler so I can drive myself home." It took Tyler a long time to drive himself home because he could feel every bump on the gravel road. Tyler's mom decided to stop by for a visit on her way down the road to our house she called Tyler on his cell phone to see if he was around. When she called him he had already fallen and it was her phone call that helped him locate his phone. She stopped by our house to bring Ethan his birthday present. It took Tyler about 15 minutes to drive himself to the house. When I heard the 4 wheeler I looked out the window and saw that he had driven it all the way up to the Garage side door. I could see that something was wrong, but I wasn't sure what. I poured him a glass of gatorade and I was just getting ready to take it out to him when he called me from his cell phone and said I have hurt myself I need you to take me to the hospital I'm getting in the car grab the hydrocodone. Since MIL was visiting she said she would watch the kids. I grabbed my purse and we left. Tyler took four of the double strength hydrocodone. I have never seen him in so much pain in my entire life. He was crying and groaning and every time I pressed on the brakes it would hurt him. I tried to be so careful with every turn I took so it wouldn't hurt him. I called in to the ER on my drive in so that they would know and have a bed ready. I pulled up to the main doors of the ER and helped Tyler in. They let us come right back and immediately put Tyler on a back board and neck brace on him. I felt really glad to see that one of the EMT's that was helping him was a neighbor of ours. I knew that she would take good care of him. They decided to take him for a CAT-scan since it would show more of what was going on. When the doctor came in he said that Tyler had fractured his back in three places and that one spot was over 50% in the spinal column. He gave me the choice of Life Flight to Boise or Life Flight to Salt Lake. I chose SL since that is where I grew up and knew that I would have help from my family down there. It took the helicopter an hour and a half to fly up to the hospital. They prepared Tyler while the Helicopter went to refuel. Then they loaded Tyler up and left. I then went home and frantically packed for myself and the three youngest (I knew Hailey was missing school but she has a lot of anxiety and was crying about her dad). My friend Stacy took Spencer and Austin so that they won't miss school. She is such a great friend and I am so thankful for her. My cell phone was ringing so much while I was driving to Utah. It definitely made the trip go a lot faster. I got to the hospital about 11:20 my sister Leslie met me in the parking lot and stayed with the kids while I went and visited Tyler and was updated on his condition. I then found out that Tyler also has a broken pelvis. They said that Tyler would probably have surgery sometime on Friday. Tyler's surgery was on Friday around 3:30. They finished at 8 and sent him to recovery.
Every time that Hailey came to visit Tyler in the hospital she would cry. Of course it would make me cry too. She is such a sweet little girl and has been so tender and kind to Tyler since we came home from the hospital. When she prays, she prays for her dad to get better and says that she is thankful he isn't dead...so am I.
So many things that Happened on Thursday and since then have been such great blessings and miracles to me. With the injury that Tyler had he could have easily been paralyzed. I am so grateful that he isn't and I know that he could have been killed when he fell from the pivot. I know that heavenly father protected him. So many people have offered prayers on our behalf and I have felt them. Our little community has been so great bringing us dinners and visiting I really love where we live. Tyler is recovering so much faster than anyone expected. Yes it is still hard, and I have to do a lot to take care of him, but I know he is supposed to be here with me still. For that I am so thankful.
Here is a couple of pictures of Tyler in the Hospital I think it was about 2 days before he was released.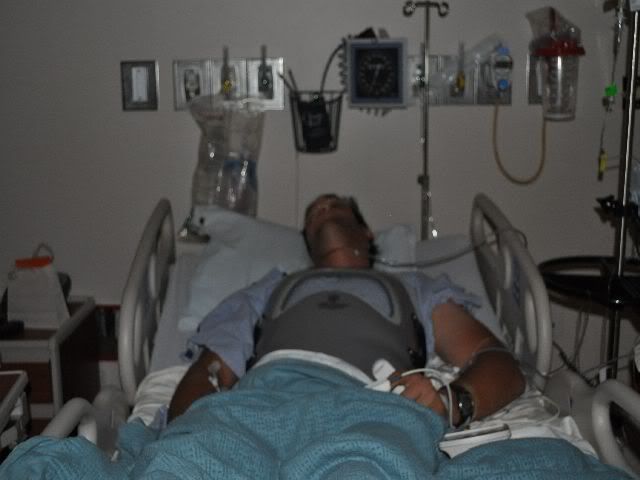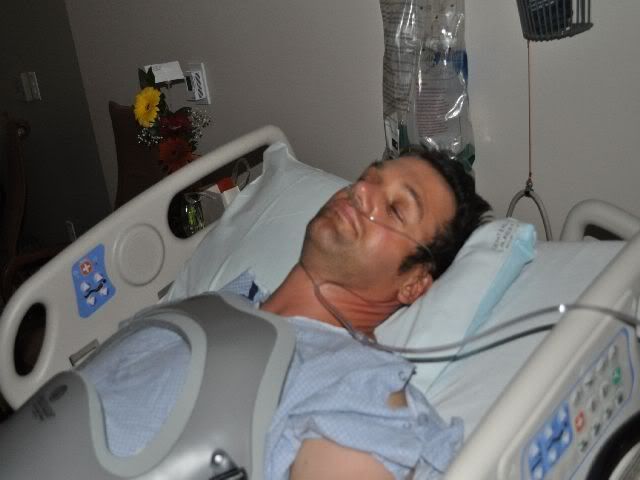 He has to wear this back brace all of the time unless he is laying flat on his back. I have to be the one to help him put it on and take it off.