The Birth of Baby Max
On Thursday the 17th in the evening I began bleeding. I figured it wasn't a big deal and that I would probably start labor that night. On Friday morning I was still bleeding with no labor so Tyler called our doctor. He said to be at his office and 9AM. He checked me and said that he didn't know for sure where the bleeding was coming from but since I was over 39 weeks it would be best to induce. He sent me right over to the hospital. I sent Tyler home to get my bag and the camera. I got checked in about 9:30 and they had the IV in and the pitocin started by 10. I was anxious for Tyler to get back. I was also feeling nervous because I planned to go without an epidural. The nurse checked me shortly after starting the pitocin and I was a 5. I was glad because I only had 5 to go. Every 30 minutes the nurse would turn the pitocin up. The contractions were painful but I felt like I could manage them. With each contraction I would take a deep breath in making sure that my abdomen expanded. By the third breath I would be at the peak of my contraction. I took it one contraction at a time and focused on my breathing. Around 2 the doctor came in and broke my water. I was worried that the contractions would be a lot more painful after that but they didn't seem to be. A little before 4 I was dilated to a 10 and ready to push. Pushing seemed to help the contractions be less painful. After 5 or 6 pushes baby Max was born. The nurse had talked to me about skin to skin contact with your baby right after they are born, and I told her that was fine, so I expected that they would put the baby up on top of me. The nurse took the baby so I figured that they were going to wipe him off a little bit. I guess it was good that I didn't realize for a minute that the reason they took him was because he was blue and they had to put oxygen on him.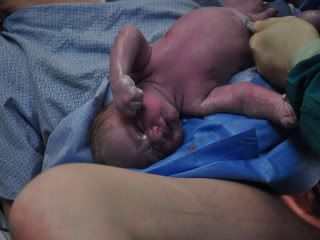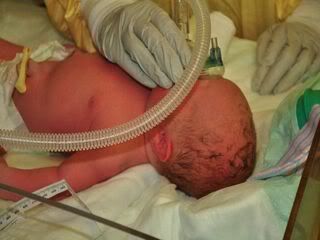 After about 30 minutes I was finally able to hold him. He was born at 4:02 PM and weighed 8lbs and was 18 inches long. The next morning they took him to get all of the routine test done. I wasn't worried my little guy seems healthy. When they brought him back they told me that he had failed the hearing test in both ears. I have to take him back for a retest next week. For now I don't know if he can hear or not, but I know that whatever the outcome may be, we will be able to deal with it. Baby Max is such a sweet little baby and a blessing in our home.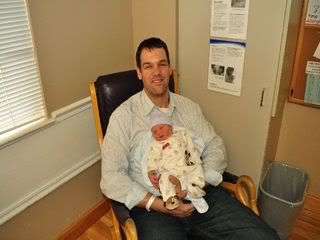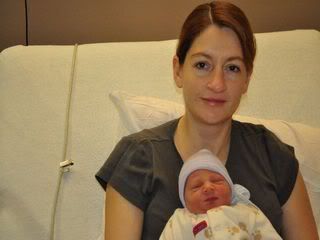 My sister Leslie drove up to help me when I told her that I was being induced. She arrived just in time to see the baby. She was so much help to me. I was so thankful that she came to help me. When she left on Monday I cried because I felt so thankful that she would take work off and drive all the way up here to help. She is such a kind sister and a great Aunt to my children. I feel bad that I didn't take a picture of her holding the baby. Next time I see her I'll have to take one.