Since it has been so long since I posted I have a few pics from the last few weeks to add.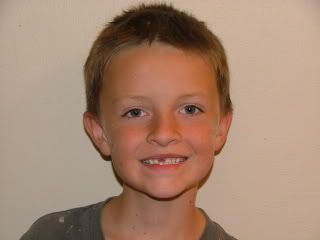 My little Austin lost his front tooth. I told him he needs to lose the other one so I can sing All I want for Christmas is my Two Front Teeth to him.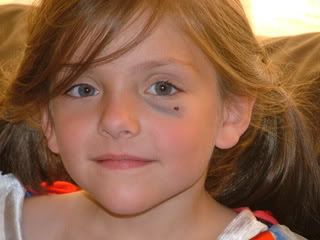 My beautiful little Hailey had a black eye. She was throwing a piece of metal into the dumpster and didn't throw it high enough so it bounced off of the side and hit her in the eye. I'm glad it didn't hurt her eye ball. Since it has been a couple of weeks since this happened her eye is better now.
Sweet little Ethan got a huge goose egg on his forehead when Austin was pushing him in my double jogger and it tipped over on the gravel. Poor little guy this happened just as his black eye got better. His forehead has also healed since the pic.
I'm sure people were beginning to wonder if I beat my kids. Right now they are looking fine, but since I am posting this I'll probably jinx myself.