I've needed up update for quite some time. At the end of February I let Hailey get her ears pierced. She has been asking for awhile. I was going to make her wait until she turns 8, but I figured she wasn't going to change her mind so I took her. She was so brave, I was surprised. She didn't even cry!
On March 4th Hailey turned 6! I can't believe how fast time has gone by. It seems like yesterday I just took my little girl home from the hospital. I sure love my beautiful little girl.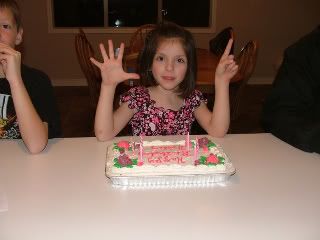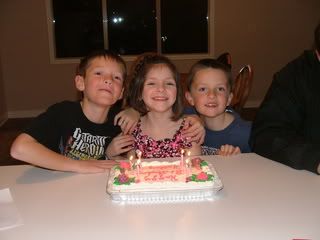 I actually bought Hailey's cake from Stokes. I am not usually a fan of store bought cakes but it was the best store bought cake I've ever eaten. I loved it so much that I enjoyed a piece for my breakfast the next day as well.
For spring break we went to Utah for 5 days. It was so fun to just relax and visit my family. My friend Stacy came to UT also and we went to The Joseph Smith movie with her and also to a U of U Gymnastics meet. My mom took a day off from work and we took the kids fishing. It was so fun, all of the kids keep asking for fishing poles. We also had a great time hanging out with all of my sisters...except Bridget. Bridget lives in Ogden and was busy with school, but maybe next time.
Last Saturday Spencer had Festival (for Piano). He received a superior (which is the highest you can get) although his score was on the lower side of superior. I felt really proud of him. He did really well. I didn't get to go in when he played for the judge but I listened at the door
I heard him play an f instead of an F# in the song Minuet by Bach, his other song is called L'Arabesque he did really great other than he seemed to rush it a bit (I think because he was nervous). He is just learning another song called Serebande that I really love and hope he can do it next year but he'll probably pick a new song because he will be bored with it before it is even close to time for festival. If he gets another superior next year he will get a gold cup. He really wants one so that will motivate him to practice
Next year Austin will go to. The teacher they go to doesn't start teaching them until 3rd grade and doesn't usually send them to festival until they are in their second year of playing. I know Austin will do really well too
Last Sunday the power was out for probably about 18 hours. It always makes me think about what I would do in a real emergency. The thing I missed the very most was water. Because we use a well, when the power goes out we lose our water too. It was so hard. The whole day I kept going to wash my hands and there would be no water. The second thing I missed was heat. Our house was so cold by the end of the day and after the power came back on it still took a long time to warm up. I've decided we need a wood stove or some alternate source of heat for a back up.