First day of school and Lake Powell
Well I missed posting the kids first day of school so I'll do it now :)
School Started on August 24. Here is Hailey with her teacher Mrs. Lloyd.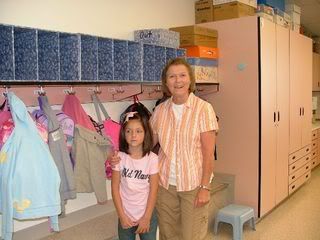 Here is Austin with his teacher Mrs. Ashton.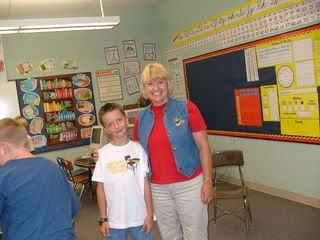 I didn't make it to Spencer's class fast enough to get one before class started so I took one from the door way. Here is his teacher Mrs. Hawks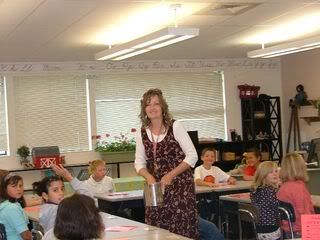 Our kids missed the second week of school for a vacation to Lake Powell with our friends the Gillettes. The one thing I worried about on the trip was that I didn't want any of my kids to drowned. I made them all wear their life jackets 24/7 except Spencer who passed a swimming test. We all slept on the top deck of the house boat. I worried a lot about Brig climbing out of his play pen in the night so we turned it upside down to make a cage..lol. It worked pretty well until he woke up in the night and bawled.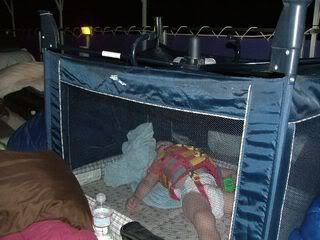 Here is a pic of all of the kids sleeping. I thought they all looked so cute.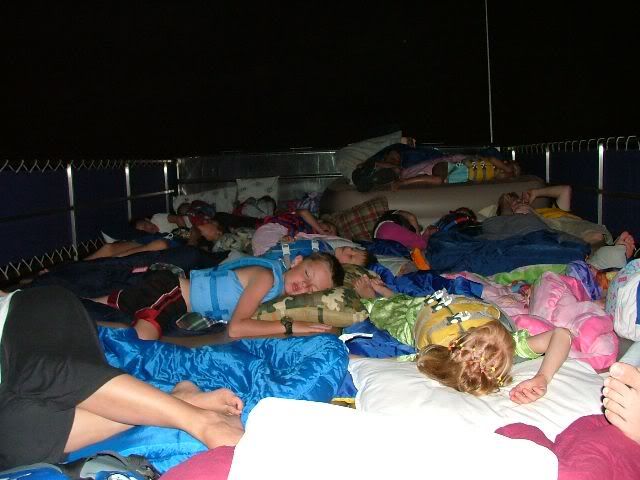 All of the adults slept around the kids to keep them safe in the event that they woke up during the night.
Stacy's family was so fun. Here is a pic of her BIL Theron who made a row boat out of a log.
He and Stacy's brother Daniel made a "raft" out of a few logs that were around with the kids. They all thought it was great.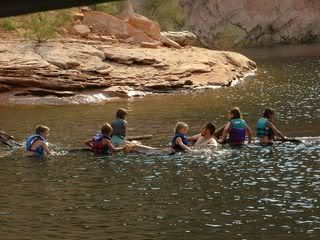 My little Ethan went from hating water to loving it. He found that with the help of his life jacket he could go anywhere.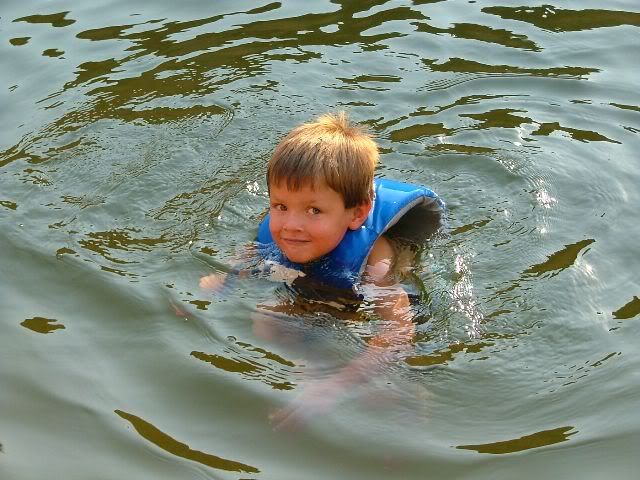 He really wanted to water ski, but the boat was a little to big to pull a little boy, so our friend Zane whipped up what I call waterskiing Redneck style.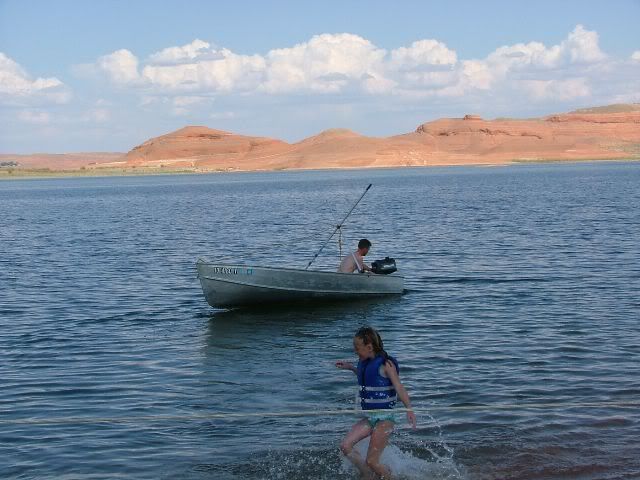 Ethan got a little bit tired of waiting for everything to be just right.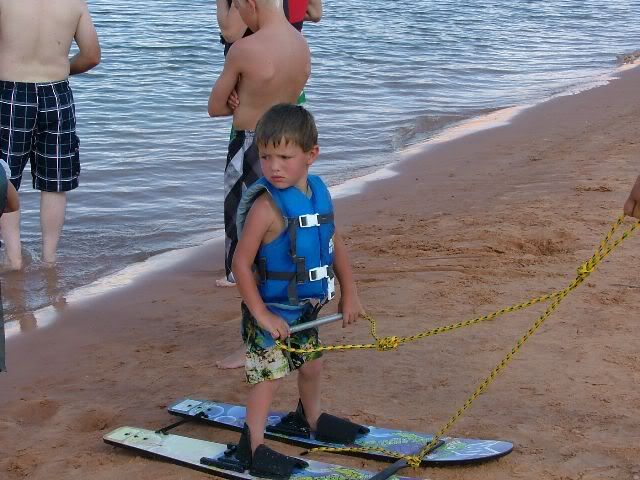 Here dad is helping him to get ready.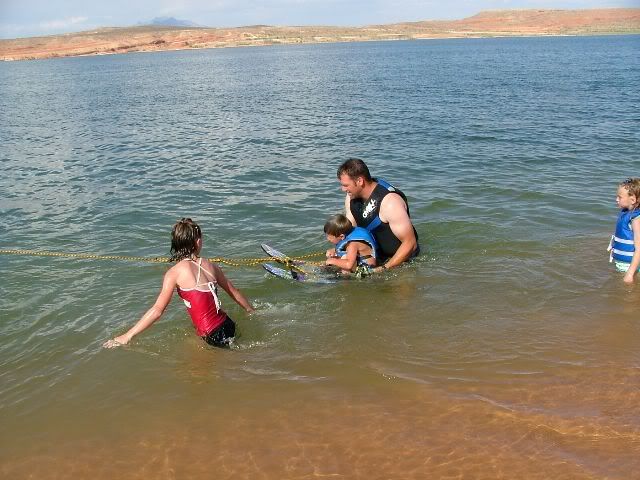 Here is my little 3 year old water skiing.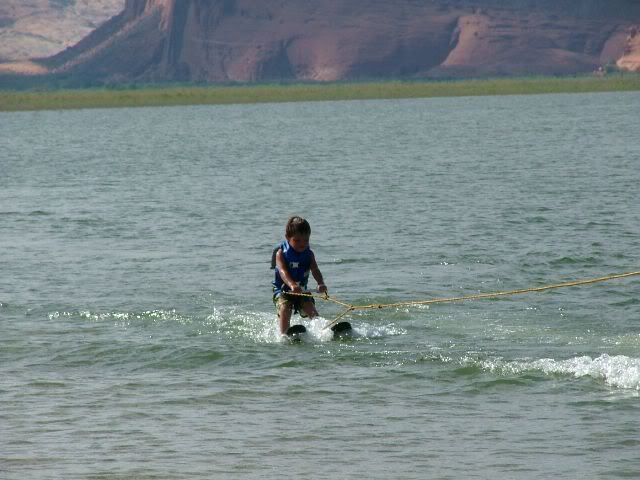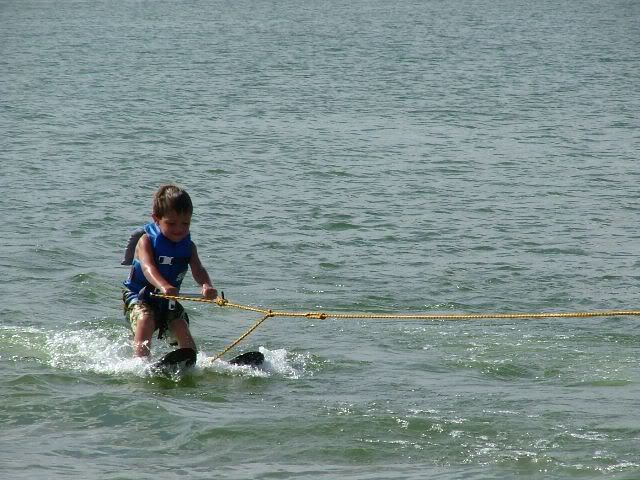 Hailey, Austin and Spencer also water skied. My friend Stacy got some good photos of it and I'll add them when I get them from her.
Spencer also wake boarded for the first time. Here he is getting ready.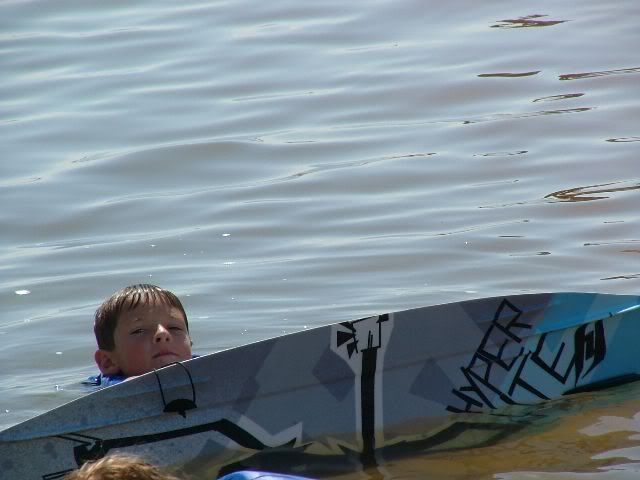 Here is my little Spencer on a wake board.
I forgot to add. I also tried water skiing. I didn't quite get up. When I got close my left leg kept going back like I was doing the splits. Maybe next time. This is the first time I've ever tried so I think I did okay. I think Stacy also got pics of that...lol.
Tyler is awesome at water skiing and Wake boarding. When he would get close to the house boat when he was done he'd always do an awesome trick. I tried to capture it with my camera but I got right before and right after.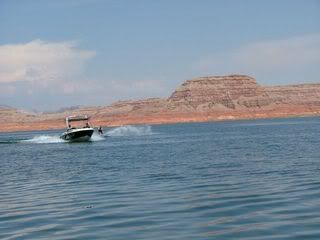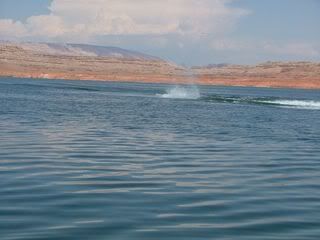 We also had a grand time building sand castles on the beach. The kids helped me build an awesome one with a moat.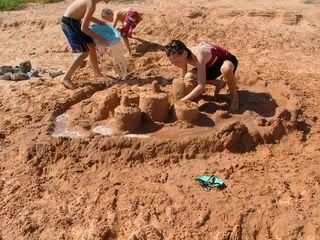 Here is Stacy directing the building.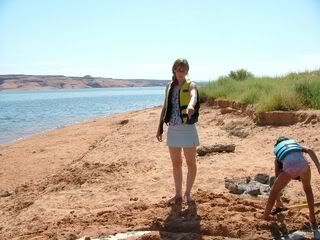 Here is sweet Brig just enjoying the fun.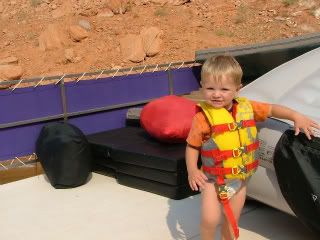 I think this was our best family vacation ever. We have enjoyed all of the vacations that we have been on but it was the most relaxing one by far, and the best news of all is that the kids were all kept safe.