Yesterday was Hailey's birthday. My little girl is growing up. She told me she will always be my little girl though. I am so glad that she is a part of our family. I couldn't have asked for a nicer little girl :)
It was a busy day. I ended up buying a small cake for her because I am making brownies for her birthday party which we are having today.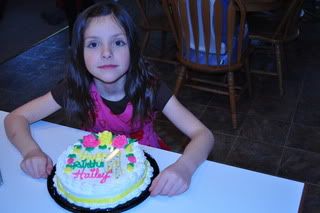 Spencer is a really nice brother. He went down to his room when he got home from school and got $10 and gave it to Hailey for her Birthday. He is always so thoughtful about giving gifts. This week has been a rough one for me and a few times I've cried because of Austin. Spencer is so sweet and helpful to me and he is so protective when Austin makes me feel bad. I am so thankful for him.
Yesterday evening it was the Scout's Blue and Gold banquet. I had to make rolls and cookies for the dinner. It was an interesting evening. They had this plastic post filled with candy and miscellaneous items and had everyone guess how many. Austin won. His guess was 555 and that was the answer. My guess was 563 and Spencer was 501. Austin seemed happy and embarrassed that he won.