Hepworth Happenings
On the 9th of April Tyler and I were able to drive down to Salt Lake to see Jemma get married in the Salt Lake Temple. Tyler's mom met us in Salt Lake and took Brig and Ethan back to her house. It helped me so much for her to come and get the kids. Tyler took a picture of Jan (Jemma's Aunt) and I sitting at the temple waiting for pictures to be done. He actually took a few that turned out. I was surprised because I'm not photogenic.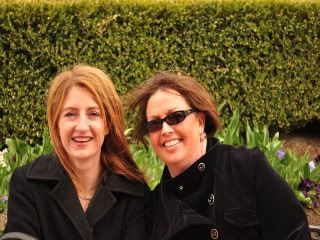 At the beginning of the week Brig got into one of the drawers in the master bathroom and flushed most of a box of q-tips. I thought for sure we were going to have to take the toilet off. Just a couple of weeks ago Brig flushed an alligator toy and a small care bear figurine in Hailey's bathroom and we had to take the toilet off. Of course it was Saturday night and I had to go to Walmart and 10PM for a bowl wax. I think we were finished by 11:30 though :)
On Wednesday Ethan thought it would be a good idea to get into the food coloring. I don't know why...but he got into the blue food coloring. Fortunately it was contained to the kitchen. His face and legs were blue stained for a few baths and his legs still have a bit of blue left. Hailey had dance pictures that night and for some reason she ended up with a couple of blue finger prints on her arm...lol.
On Friday morning I was making our bed and I looked out the window to see water pouring out of the well that is right by our house. It was coming with a lot of speed. I went to tell Tyler and he grumpily said he knew. He went outside and got the water stopped but not soon enough. One of the window wells had a couple of feet of water in it and more was pouring in. It was leaking into the house. Tyler ran to the shop and got a pump and I ran upstairs and grabbed towels. I pressed the towels where the water was coming in and they were getting soaked. Once the pump was hooked up it didn't take long for them to get the water out. The carpet didn't get wet at all. I know inside the wall did get wet because I saw water pouring in. I'm hoping it wasn't much and that it will just dry out.
Yesterday We made another quick trip to Utah. Tyler's friend Brijesh(He is from India) was having a dinner reception and since we didn't make it for his wedding we wanted to make it for the reception. We left around 2:30 in the afternoon for Leslie's house. She is such a kind Aunt to my children and I knew she would take good care of them while we were at the dinner. The dinner was at this restaurant called Tuscany. It was a really nice place and we had a great time. The couples that we sat by were really nice and we were also by Brijesh and his wife Reena. It was so fun to visit with them. I am happy that Brijesh found a good woman. The dinner was at 6:30 and I figured it would only take maybe 2 hours. We didn't end up leaving until almost 9:30. We made it to Leslie's house and picked up the kids. After we had left about 3 minutes had passed and Spencer announced that he felt really sick and might throw up. I hurried to pull over but I wasn't quick enough and he threw up all over the floor in the back. My mom lives a few miles from Leslie and I called her. We went over to her house so I could use her carpet shampooer to clean the upholstery. Finally at 10:45 I was ready to go and as we headed out Spencer puked again on the grass. I went back in and got some benedryl to give Spencer. We had to rearrange the seating in the car so that Spencer could be near a door in the event that he would need to puke again. No one wanted to sit near the puked on area and no one wanted to sit by Spencer. All of the kids were fighting about who had to sit where. It took a few time outs for the kids to be calm. When we aren't at home we make the kids stand outside the car and put their nose on the window for time out. It worked great and by 11 we were on the road again. I drove the whole way home. I knew that Tyler would have to get up early and do water. We arrived home around 2:30 AM. On Friday I had worked on a hand out that we were going to pass out in Relief Society. I had it mostly ready to go, but I made a mistake, I didn't save my file and one of the kids turned the computer off. I had a hard time trying to decide if I should redo it when I got home at 2:30 or in the morning before church. I decided to do it in the morning because my eyes were having a hard time focusing. The flier turned out fine.
Someone mentioned to me the other day that something exciting is always happening at our house...lol. By exciting I think they mean some kind of catastrophe so I guess they would be correct :)