Marchant Muddies and more!
This past weekend I went down to Utah to run the dirty dash with my mom, Leslie, Bridget, and Christine's husband Dan. I was a little bit apprehensive to run since I know it is harder to run in mud. I knew it wouldn't be a PR or anything but I decided to run just for the fun of it. The run had a series of obstacles along the way as well as a bunch of different mud pits. One of the obstacles was really big hay bales that you would have to jump over......well let me tell you being almost 19 weeks pregnant messes with my coordination I had to go around the hay bales. The next obstacle was walls that you would have to climb over. I had a terrible time hoisting myself over the first one and went around the rest...lol. One really fun obstacle towards the end is a giant slip and slide. I didn't really want to slide on my stomach so I slid on my butt but I didn't go very far. I then had to run part of the way down the slip and slide until I got where it was slippery again.
Here are the five of us just after the wall.
Here is the big mud pit at the end. You are supposed to crawl under the flags. I lifted the flags over myself and people booed me :)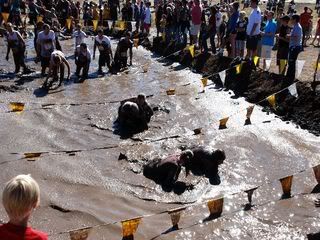 Here we are all done with the run! It was a lot of fun and I am hoping to sign up for the 5K in May.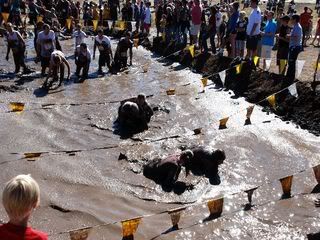 It was a fun weekend and I had a good time with my family.