January in a nutshell
On Christmas Eve after I had put the kids to bed, Ethan came up to me and said "Mom, I know I am going to get a lump of coal." I said "Why, have you been naughty?" and he said "A little bit." We had been reading the book It's Christmas, David! And in the book he dreams that he gets a lump of coal...lol. I had been thinking about how I needed to write that down so that I don't forget it.
On the 8th of January Brig turned 3! I can't believe that my baby is 3 years old now. He still seems like my baby but maybe that will change when I have the baby. He is talking so much now, it seems like his vocabulary is increasing every day. On his birthday I handed him a present and he ripped the paper off and then went for the next one...he forgot that there would be something in the box...lol. I took him to stokes to pick out his cake. He thought it was great and most people thought that I was expecting my second since he was the only one with me! This is one of my favorite pics of Brig when he was a baby.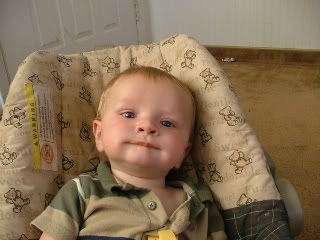 This past week in school it has been Red Ribbon Week. I am on the PTO and was in charge of Red Ribbon Week. It was supposed to be back in October but I couldn't do it then because of Tyler's accident. It was a fun week and it ended on Friday with an assembly. The speaker that I had did so incredible, I was so impressed by him. We also had a drug free poster contest. It was really hard for me to decide on the posters because there were so many good ones. At the end of the assembly we had balloons for the kids to stomp on to "stomp out drugs." The kids really seemed to enjoy that. After the assembly school was out and I went to the car to find that only Austin was in the car. I went to the school bus to see if Spencer and Hailey forgot that I was picking them up. The bus driver is a substitute (the regular one retired) and he asked me "are you a cheerleader." I started laughing and said "why because I am pregnant." He then laughed and told me that was a good joke, and then he looked down and said "oh, you really are pregnant." LOL...that bus driver knows how to get on my good side. I have only about 4 weeks to go :D or 3 if it is a week early!
On Wednesday as I was taking Hailey and the Gillettes to dance I was going a little fast on our gravel road. It had snowed and was quite cold. I usually can go faster on the gravel though since it provides better traction than the paved roads. As I was getting close to the highway I started tapping my brakes and realized that I wasn't going to be able to stop. In my mind I weighed my options. I could either run the stop sign or drive into the field right before the stop sign. I decided to drive into the field. Of course I got stuck. I tried to pull forward and it just started to flip mud and ice all over the place, and the same thing happened when I would try to go into reverse. I called Tyler to come and rescue me. While I was waiting for him a pickup and a semi stopped to see if I needed help. It really made me grateful for where I live, I know that if I really needed help I would be able to find it. When Tyler made it to help he told me that I was going too fast. He was right. He told me that I need to be more careful and he was right about that too. I am going to try and be more careful in the future. Fortunately for me my FIL was out of town when this happened so I didn't think he would find out...lol. I was wrong on Friday while I was at the drug free assembly Tyler was watching Ethan and Brigham and they went to town with grandpa. As the passed by the tracks in the field grandpa said it looks like someone went off the road here, I wonder who. Ethan then decided to tell grandpa that he knew and it was his mom. Kids are so funny. I wasn't mad that he told him....lol My FIL called and reminded me that I need to be more careful so that I can be around to take care of my kids.
On Sunday my parents and Ben came to visit. It was a lot of fun to have them here. My mom is so much help to me. It is nice to have someone else helping to keep your house clean. My brother Ben was so nice to the kids and they all thought he was so great. On Monday I was in my bathroom fixing my hair and Brig came in and said "mom, where is Benny boy?" I thought that was so cute. It was so fun to be able to visit with my mom and dad. My Dad put a ceiling fan in Hailey's room for me. It looks so cute and every time Hailey looks at it she talks about how great it is and she is glad that grandpa put it up. When my parents and Ben left on Tuesday they were almost involved in a head on collision. When my mom called and told me about it I thought about breakfast that morning and how I had prayed that they would travel safely. I am really thankful that they were protected.
Life just seems like it is getting busier and I know when I have the baby it will be even more. I am so thankful for my life and my family!