A time of Firsts
At the end of August the kids started school. It was kind of a bittersweet moment for me. Spencer started 7th grade. The 7th grade is in a junior and senior high school. It is kind of scary to send my boy to a school with high school kids.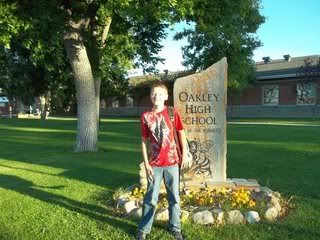 He also went to his first school dance. I didn't want him to go very bad, and I tried to convince him that girls were stupid, but he didn't believe me. I also tried to make a curfew super early so he'd only go to part of the dance but his dad told me that I need to lighten up....lol. I wouldn't really make him come home early but I might be up for volunteering to help with the next junior high dance :D He danced 10 times with different girls. I actually like that he didn't stick with just one girl. I don't want him to have a girlfriend until he comes home from his mission.
Here is Austin with his teacher Mrs. Hawkes. She is a really nice teacher and I hope Austin remembers to behave in her class.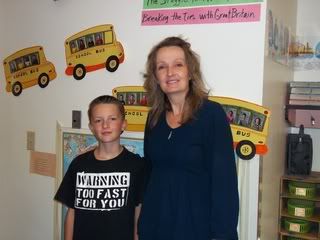 Here is Hailey with her teacher. She doesn't look happy because she bawled all morning. She has had a lot of anxiety about going to school. I have been working with her and her teacher Mrs. Mitton to get things settled down.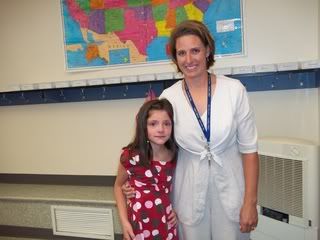 Ethan started kindergarten. He loves going to school. The other day he came home from school and asked if he could bring a pickle for his teacher because it is her favorite food. I let him take a jar of home made pickles for her. The next day another boy brought her a tupperware of pickles...lol Kindergarten kids are so cute. Ethan's teacher, Miss Porter, seems really nice. I hope she stays for a while.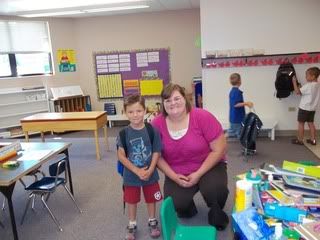 Since school has started Hailey has been quite interested in bugs. One day she caught 16 tiny grasshoppers. I told her that she couldn't keep them. It was the weekend and she asked if she could keep them until Tuesday to show her class at school. I told her she could but they might die before then. She made sure the grasshoppers had plenty of lettuce leaves to eat and prayed every night that they would survive until she could show them to her class. Then she promised Heavenly Father that she would let them go. They all survived and she let them go when she got home from school.
Another night we watched a movie called 17 Miracles there are a few parts that are quite emotional and Hailey and I both cried. After the movie was over we talked about miracles and how thankful we were that Tyler was still alive and not paralyzed. Then Hailey gave our family prayer and I think it was one of the sweetest sincere prayers that I have heard from one of our kids. She thanked Heavenly Father that we have food and shelter and that our dad is still on the earth.
The other day I was in the kitchen swatting flies and Brigham said to me "Jesus likes
flies." I said "He does?" Ethan was in the kitchen and he said "Yeah he does, because he created them." It had made a profound impact on the way that I view some things.
This past weekend we went to Utah for a bridal shower for my sister Becca. On our way down we stopped at the gateway mall to get Spencer's ipod fixed. After I let the kids play in the Splash pad area for a bit. It was a lot of fun for them. I enjoyed watching them. I think that Brigham had the most fun.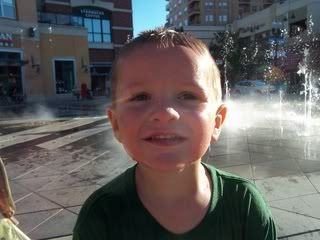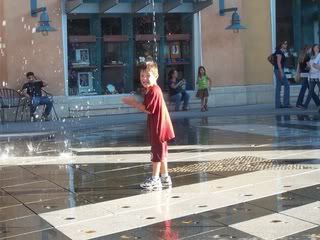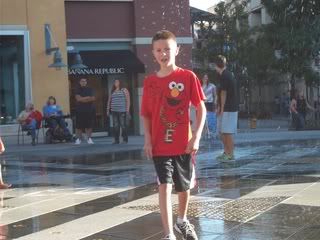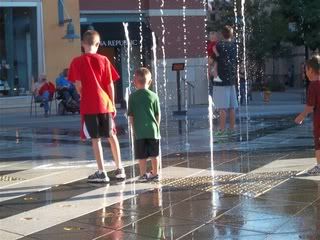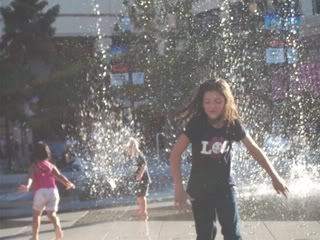 I was able to hold my sister Christine's baby Sam for the first time. He is so adorable and tiny. I can't believe that Max was that small once.
This morning before we left my sweet sister Leslie came over to my mom's house and helped her make us a delicious breakfast. It is so fun when someone else makes breakfast. I am so thankful for all of my family.
On Friday when we got to my parents house my Dad built a fire in the fire pit they have out in their orchard and we made smores. It was so fun and my dad was so patient with my kids. It was a fun visit and I can't wait to go again for Becca's wedding reception!