A Year of Tender Mercies
Last year on the 30th of September Tyler was flipped off of a pivot and broke his back and pelvis. Over the past year I have been able been able to reflect on the the tender mercies of the lord and of miracles that happen in our lives. I look back and feel so amazed at the blessings in our life. I am so thankful for Tyler and the wonderful father and husband he is. I am so thankful that he is still here and able to help me to teach and care for our children.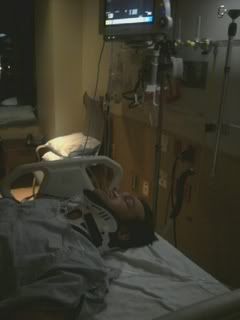 When baby Max was a week old Spencer had appendicitis. I felt inspired that Tyler needed to take him to the emergency room. I told Tyler "I think that Spencer needs his appendix out, you should take him to the emergency room." They arrived to the emergency room around 5 and by 7 they had Spencer back in the operating room. They actually made it home by 11:30 that night. I am so thankful for the inspiration that I receive from the Lord it helps me to be able to take care of my family!
The whole time that Tyler was in the hospital was difficult. I didn't know how long he would be in the hospital and I didn't know if he would have complete feeling in his lower limbs, but I did feel a peace in my whole being that everything would be alright.
I remember the day after Tyler had his surgery they made him get up and walk for the very first time. He only made it about 5 steps, with the aid of the walker and the nurse. I kept trying to push him to go further. I went to my parents house later in the day and cried and took a nap (I am sure I was super tired). That day was probably the most overwhelming to me. After that Tyler's recovery seemed so much quicker and the milestones were a lot bigger than 5 steps. It was still a long recovery. I am so thankful for the strength I received at that time.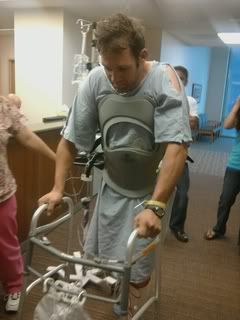 In his general conference address Elder David A. Bednar spoke about the tender mercies of the Lord and he stated " Through personal study, observation, pondering, and prayer, I believe I have come to better understand that the Lord's tender mercies are the very personal and individualized blessings, strength, protection, assurances, guidance, loving-kindnesses, consolation, support, and spiritual gifts which we receive from and because of and through the Lord Jesus Christ. Truly, the Lord suits "his mercies according to the conditions of the children of men" (D&C 46:15). I feel the same way as Elder Bednar only he says it better!
Life is so good for us. We are so blessed and I am so thankful for all that I have.