When we got up on Christmas morning someone left a note and a dollar in my stocking. the note said "Dear Jenny, I hope you have the best of Christmases." I know my sweet Spencer got up and made me this card. He also made one for Tyler.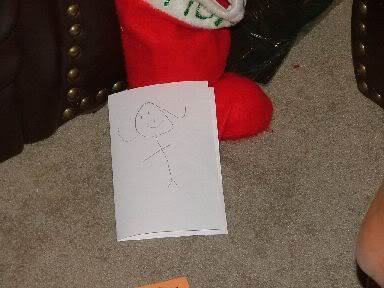 Austin was also really cute. He made me a prayer rock and wrote a song complete with sheet music. It was 4 notes and it was called Pray any time. I love my sweet kids.
Hailey was really cute because she was so excited about everything. Her voice was so loud and excited. She was excited for everyone. She is so fun.
Ethan was a crab apple on Christmas morning. He wouldn't get up when the rest of the kids did, so I went down to wake him up. He didn't want to get up. I asked him if he wanted to come and see what Santa brought him and he said "no I don't, I'm tired and I'm not getting up." I told him that was fine but we were going to open presents without him (I thought for sure this would get him up). He didn't get up and when he finally did, it was after we had opened all of the presents except his and Brig's (I let Brig sleep). When he came up I told him to stand by his presents so I could get a picture and he said "No, I don't want my picture taken." He kept putting his hand up so I couldn't take his picture. It was actually quite funny to me.