July in a nutshell
A couple of Sundays ago, I was so proud of myself I had the kids all ready to go to church and it wasn't even noon yet and church starts at one. As I began to prepare a dinner in the crock pot I noticed that it was rather quiet in the house. I looked around and asked "where is Brigham?" I was informed that he and Ethan went outside. I went to find them so that hopefully their church clothes didn't get dirty. Ethan came in the house and Brigham followed behind. Brigham looked up at me with one of his sweet smiles and said "I run through the sprinklers!" he was completely soaked. I frantically peeled off his soaking wet church clothes and threw them into the dryer on high. They were dry just in time put them on as we left :)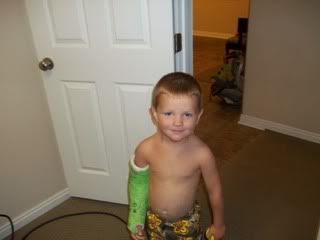 We had our Marchant family reunion at the beginning of July. It was fun and interesting. We went to a place called Crystal Hot Springs. It was kind of a run down place and our camp site was right next to a pond. When we first arrived the outhouse didn't even have toilet paper. The worst part though was that there was a train track right next to the camp ground and trains went by almost every hour during the night. It even woke up Max when they went by. Les, Becca, Brandon and I all went up and put pennies and other various coins on the train tracks. I tried sandwiching some pennies together and double stacked a couple of nickles. I loved finding the coins after the trains passed. The kids really enjoyed catching tadpoles in the pond. My niece Cassie brought a container so that all of the tadpoles my kids caught could live with cassie :D Brigham still had his cast on and my sweet sister Leslie bought a cast cover so that he would be able to swim. He loved getting in the water and Leslie was such a help to me. I am so grateful for her.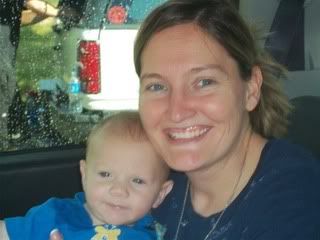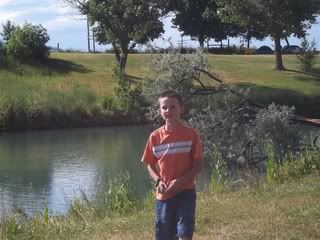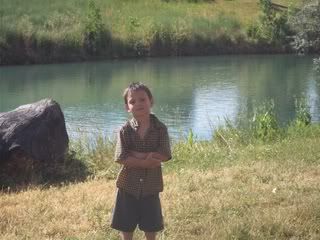 Tyler was unable to come with us and I missed having him there. He has been helping build a new shop. The other day as I pulled into the driveway I looked over in time to see him standing on the backhoe scoop up in the air working on the shop doors. I thought about taking a picture and posting to my facebook what you shouldn't do after breaking your back 9 months ago, but I really should post what a miracle that Tyler can do this. I really know that miracles happen in our lives every day and if you really pay attention that you will see the hand of God in your life.
Here is a picture of Tyler standing on the backhoe scoop.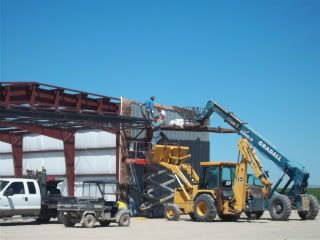 Here is a close up picture of how handsome he is!