A watch battery and a lego!
A watch battery and a Lego are what I found in Max's poopy diaper the other day! I knew that Brigham had fed him the lego because he had choked on it and Hailey tried to get it out of his mouth, unsucessfuly. I have caught Brigham trying to feed Max things a few times. I'm glad that sweet Max is okay though. He has been such a sweet easy going little guy. He is also not that big, which is weird to me since I usually have big ones..lol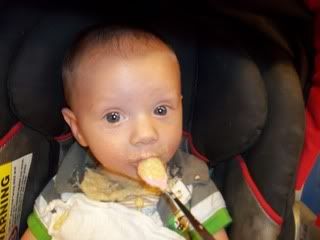 It has taken me awhile to prepare mentally to write about the next thing. Spencer's friend Dean broke his arm at our house a few weeks ago. They went for a ride in the mule (an ATV not an animal). Spencer got out of the mule to show Dean some of the sugar beets and he was teasing him that he was going to leave him. Well he was sitting in the passenger seat and he stepped on the gas and grabbed the steering wheel. He crashed the mule into a pole and somehow the way his arm was caught in the steering wheel broke it. It was so bad it was obvious that it was broken by the way that the bones were poking. I sort of panicked. When I first saw his arm I said "Oh that looks terrible." I must have forgotten all that they taught in first aid, because I now recall them saying that you never tell them how bad it looks. When they made it back to the house he was laying on the floor in the garage and I picked him up loaded him into the car. I said to him we have two choices I can take you home and your mom can take you to the ER or I can take you and we can call your mom. He said "I just want to get to the hospital." We called his mom and dad on the way there. Fortunately his dad is a police officer and works close to the hospital. I was worried that they wouldn't be able to give him anything for the pain without his parents being there. His dad finally made it and I went home and took care of his other siblings so that his mom could be there without worry. I swear we have the worst luck at our house. Dean is a really nice kid and fortunately his parents still let him come over to our house. We did come up with a new rule though. The kids can't give friends rides on the mule or 4 wheelers.